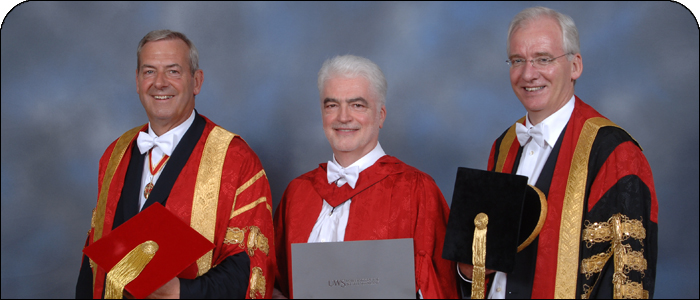 News & Latest Updates
For details of forthcoming
broadcasts and public talks
given by Billy Kay,
Main image: Lord Smith of Kelvin, Chancellor, Doctor of the University Billy Kay and Seamus McDaid, Principal and Vice Chancellor of the University of the West of Scotland
Billy Kay
Billy Kay was born in Galston, Ayrshire in 1951, and educated at the local High School, Kilmarnock Academy and Edinburgh University. He began doing a degree in Modern Languages - he speaks French, German and Portuguese - but his interest in Scottish literature led him to take an MA degree with Honours in English Language and Literature. He graduated in 1974, spent a year travelling round the world, and obtained a teaching qualification at Moray House College of Education.
He joined the BBC as a researcher in 1979, then as a producer, he created the acclaimed Odyssey series of documentaries recording the oral history of the Scottish working class. Later as a freelance writer and broadcaster he continued this theme in a number of Television documentaries for BBC Scotland. These included the story of Scottish colliers - "Miners", and "The Mother Tongue". He has written two plays for Radio and one for the stage, "They Fairly Mak Ye Work" which broke box office records at Dundee Rep in its two runs at the theatre in 1986. He has poetry and short stories published in several Scottish anthologies. In 1992 his play for Radio Scotland, Lucky's Strike - set in Ayrshire during the miners strike - won the Sloan Prize for writing in Scots at St Andrews University. In 1994 the U.K. Wine Guild gave the "best radio or tv programme" award to Kay's feature "Fresche Fragrant Clairettis". In 1999 he made a television series on Scots for Channel 4 Schools - Haud Yer Tongue and in 2003, he represented Scotland at the Smithsonian Folklife Festival in Washington D.C. He returned to the city in 2009 to speak on the language of Robert Burns at a prestigious event in the Library of Congress.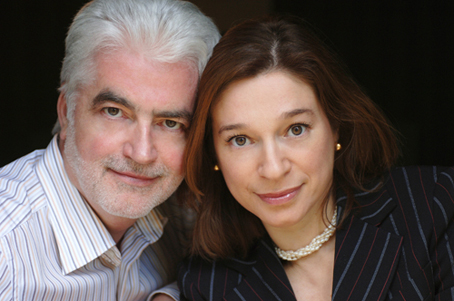 Billy and his wife João – click to see bigger version
In recent years he has presented and produced an average of six new features per year on Radio Scotland covering subjects such as the Reformation in Scotland at Prayer, or the Enlightenment in The Democratic Intellect. In 2006, Mainstream Publishing issued a brand new edition of his classic "Scots: The Mither Tongue" while his latest book "The Scottish World" was launched at the Edinburgh International Book Festival in August 2006. The paperback edition with an extra chapter on Scottish Freemasonry was published in 2008 and is available in Canada and the United States.
During the 1990's Billy was involved in the campaign for a Scottish Parliament and spoke at major rallies organised by the cross party alliance Scotland United, the Scottish National Party and the civic forum Common Cause. A trustee of Common Cause, he also took part in the Bus Party, where author William McIlvanney and a group of artists and activists toured Scotland to raise awareness and support the Yes Yes vote in the referendum of 1999. Later, this was described by Neal Ascherson in his book "Stone Voices The Search for Scotland" Like all patriots and democrats, Kay was delighted when the Parliament was restored to Scotland.
Today, Billy is an active member of the Cross Party Group on the Scots Language at the Scottish Parliament and looks forward to the day that his mither tongue will have status in its homeland. He is a trustee/patron of the Wallace 700 organisation in Aberdeen and had the honour of addressing the gathering there on the 700th anniversary of the execution of William Wallace. For his services promoting knowledge of wine and wine history in this country, he was given the honour of being initiated as a member of two prestigious Confraternities in the Bordeaux region - the Commanderie du Bontemps du Médoc et des Graves, and the Jurade de St Émilion. He was given an honorary Doctorate by the University of the West of Scotland in 2009, the Oliver Award by the Scots Independent newspaper in 2010 and later that year became the Honorary Preses of the Scots Language Society.
He is a passionate supporter of the Scotland national football team and of Dundee United. He loves film, especially French film, theatre, reading, wine and walking. Billy Kay is married to Maria João de Almeida da Cruz Diniz. They have two daughters Joanna and Catriona and a son Euan.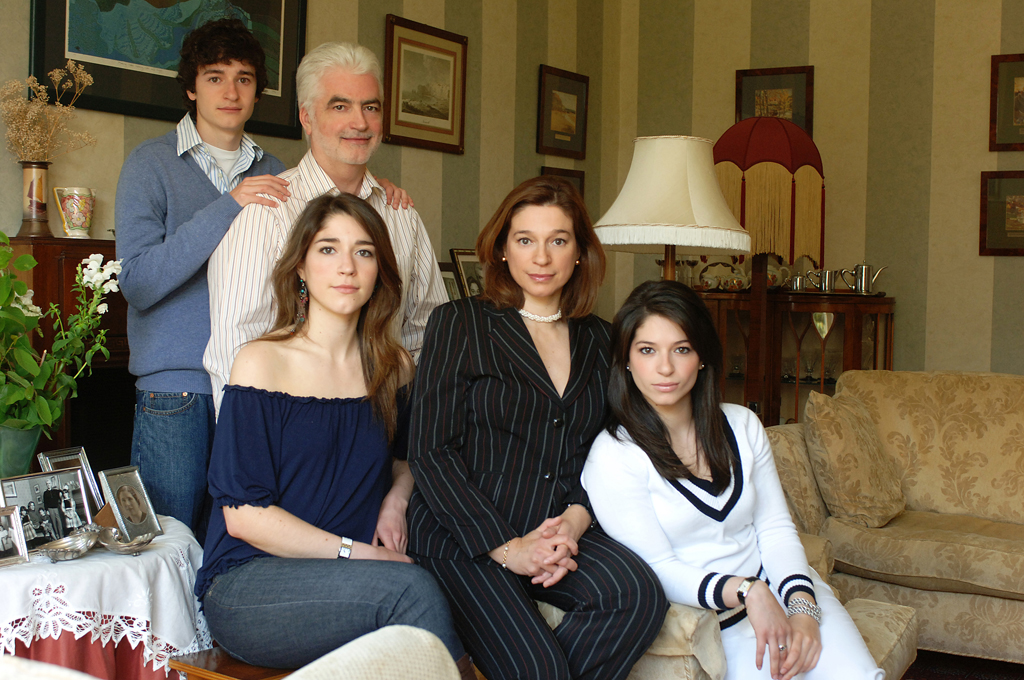 Billy´s children Joanna, Euan and Catriona and wife João
– click on picture to see bigger version
UNIVERSITY OF THE WEST OF SCOTLAND HONORARY DEGREE AWARD
I was delighted to hear from the University of the West of Scotland that my work in promoting Scottish culture has been recognised by the University. The University Court agreed to award me the honorary degree of Doctor of the University of the West of Scotland at a graduation ceremony in Troon Concert Hall on July 1st 2009. As an Ayrshireman born and bred it gave me great pride to receive such recognition in my hame county - my love for my native culture stems from the people I came from in that part of the world - so it was a great day for the Kay family and friends of the family in Ayrshire. My thanks to all at the University for making it such a memorable day. It was also gratifying to feel the response of the Ayrshire audience when I gave my speech "o aw the airts the wind can blaw, I dearly like the west"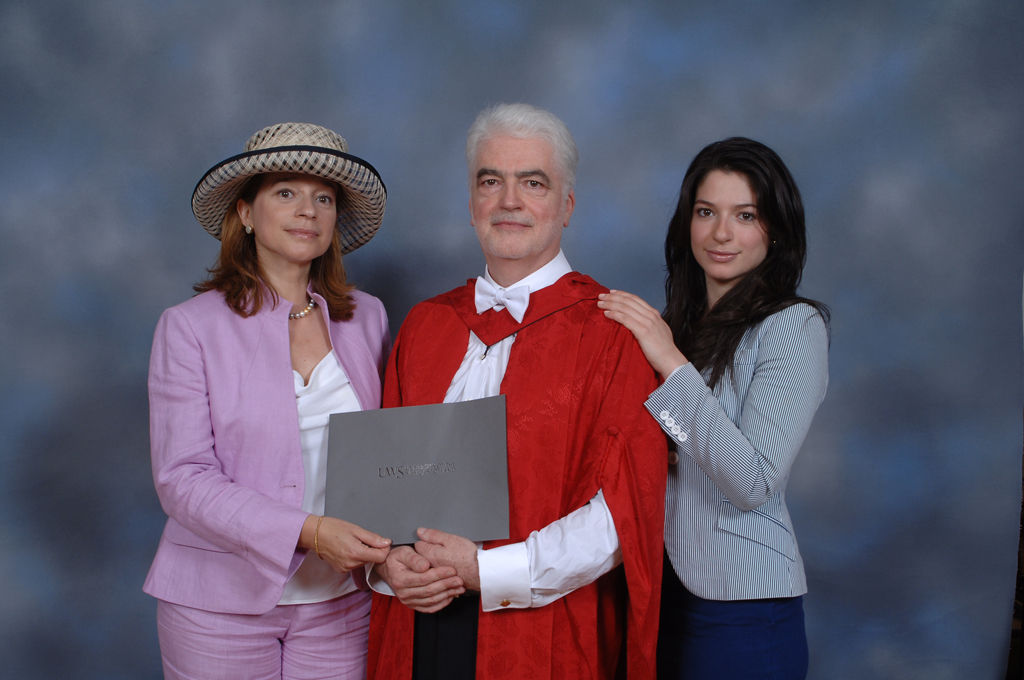 Billy with his wife João and daughter Catriona
You can see Dr Kay's speech at the Awards Ceremony by clicking here.
http://www.youtube.com/watch?v=5Nqbcb7prmY
OLIVER AWARD, Stirling June, 2010.
The Scots Independent newspaper bestowed on me their Oliver Award for 2010. The award is named after a great Scottish political and cultural activist, the late W Oliver Brown and is given to the person who has done most to promote Scottish identity and self-confidence. Previous winners have included Norman MacCaig, Winnie Ewing, Phil Cunningham and Paul Scott. It was a great honour for me and I thoroughly enjoyed attending the awards lunch with my wife Maria João. Oliver Brown had had a wicked sense of humour and the wit to communicate it brilliantly. After a talk he gave at a public gathering, a man from the audience said that the idea of an independant Scotland was nonsense, as both the Scots and the English were descended from the same people, the Angles. Rather than give the gentleman a lecture on ethnic history, Oliver simply replied with the words "Yes, but you have to remember, Sir, that there were two kinds of Angles, the Acute Angles who came North to create Scotland and the Obtuse Angles who went South to create England!! Brilliant.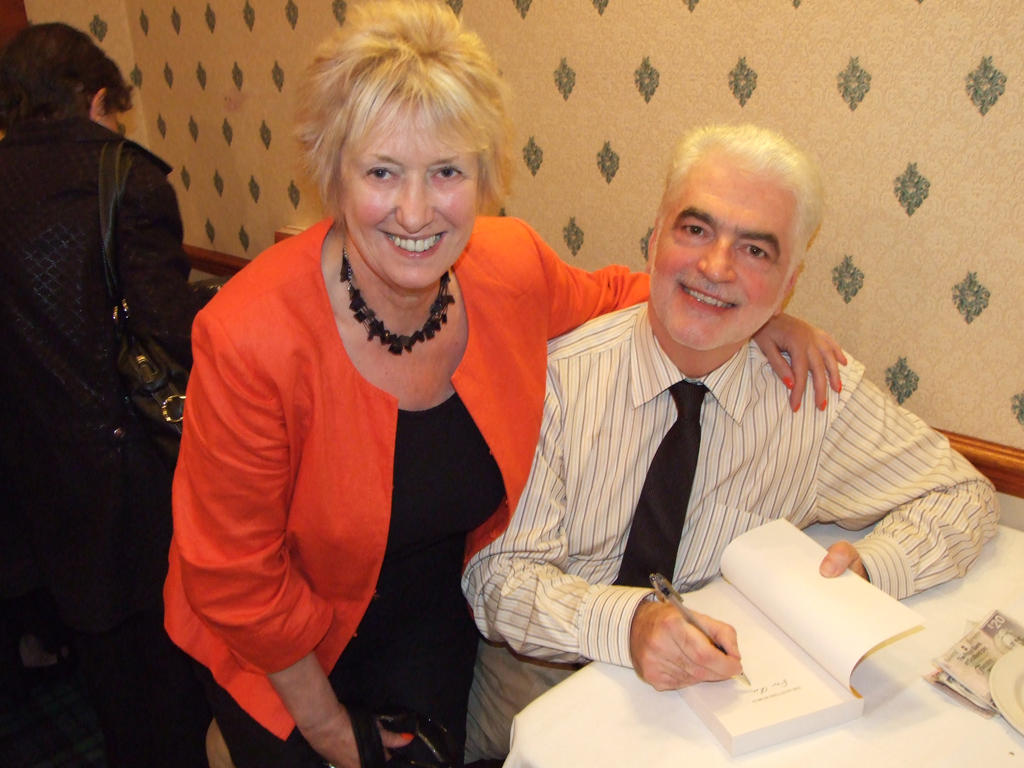 Billy with MSP Christine Grahame at the Oliver Award Lunch.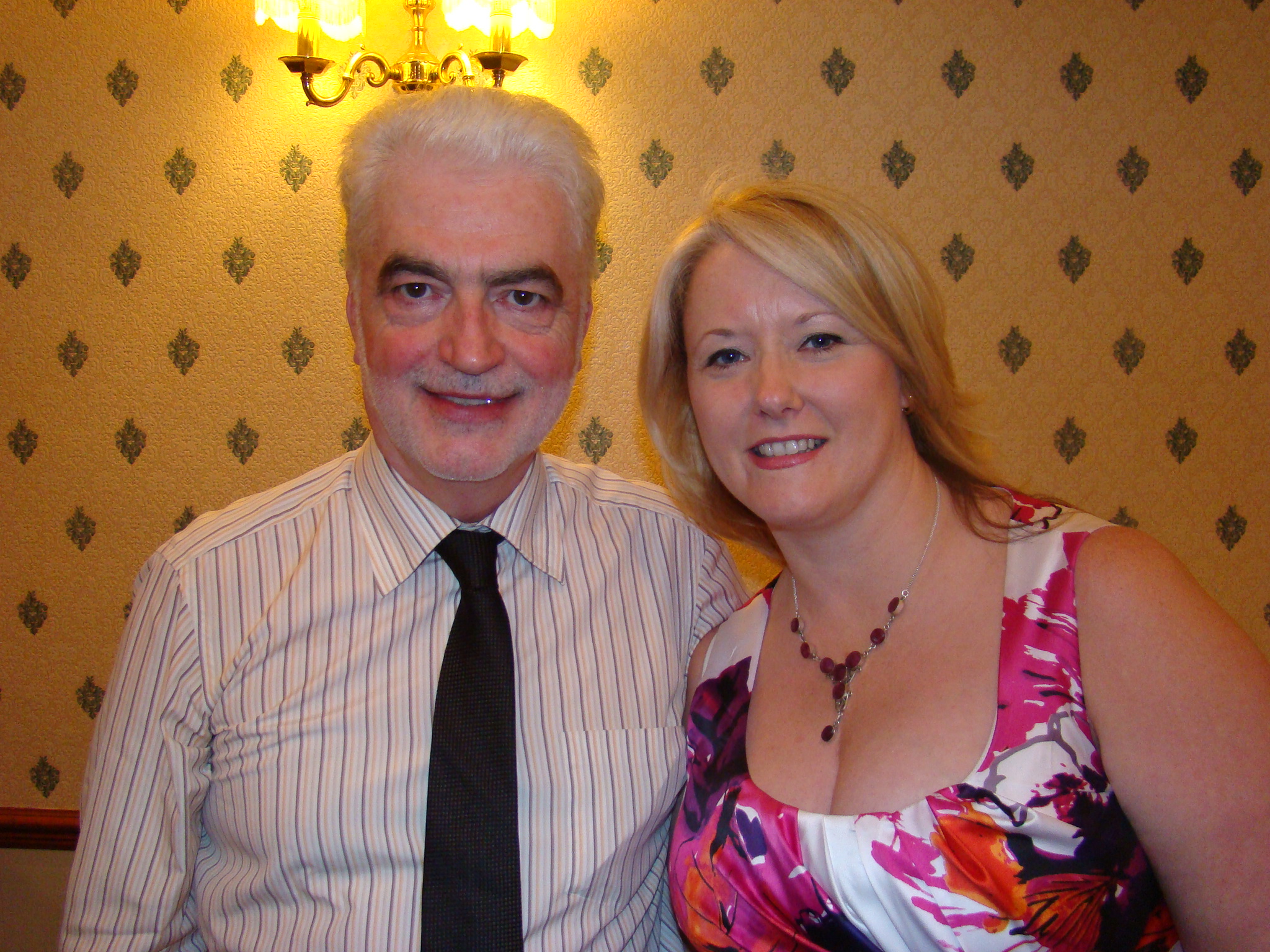 Billy with MSP Christina McKelvie
The following is a short article Billy wrote for the book "Being Scottish" edited by Tom Devine and Paddy Logue. It gives an idea of the factors that made his strong sense of Scottish identity.
The following is a short article Billy wrote for the book "Being Scottish" edited by Tom Devine and Paddy Logue. It gives an idea of the factors that made his strong sense of Scottish identity.
BEING SCOTTISH
My sense of Scottishness was wrought primarily in a working class family in 1950's Ayrshire. Intellectual dimensions were added studying Scottish literature at Edinburgh University, and international perspectives gained from travelling round the world and speaking several foreign languages, but my first identity is as a Scots-speaking Lowlander from the Burns country. His brilliant poetry and songs were ingrained in the local culture, and it was a source of community pride that we spoke the same dialect of Scots as the poet. My father taught me stories from Scottish history Galston had sheltered Bruce before the skirmish at Loudoun Hill while my grandmother lived in Stand Alane street - the words uttered by Wallace when his followers deserted him in the face of an approaching English force - "I stand alane" Cultural, as opposed to political nationalism, was absorbed by osmosis. The socialism of the mining communities was another major influence, so along with pride in being Scottish there was a strong sense of egalitarianism; we werenae better than ither folk, but we were gey shuir we were as guid as onybody!
Given that background, you will understand how moved I was when Sheena Wellington sang "A man's a man for a' that" at the opening of the Scottish Parliament and consequently how scunnered I was to see certain MSP's reduce the debate to have a question on Scots included in the census to the level of comic capers. As someone whose work has always promoted cultural diversity, making programmes about minorities like Lanarkshire Lithuanians or Ayrshire Spaniards whom very few people knew existed, I was pleased to see that the lobby pressing for a question on religious identity in the census had succeeded. I found it bitterly ironic though, that if I had belonged to a religious or ethnic minority, the same MSP's would not have dared trash my mither tongue. I stand alane with the many hundreds of thousands who use Scots as their first language, yet see it given scant recognition from our major institutions.
However, as most MSP's and most Scots have not been educated in their own culture, ignorant attitudes abound, and the Scottish cringe is everywhere. I collect examples: the education convener in a Labour fiefdom who replied to the proposal that Scotttish studies should be an integral part of his schools' curriculum, "Oh, no, we live in a multi cultural environment!" Apparently every culture was to be taught except the native one! A few years ago when I asked a Fife headmaster if Scottish literature was encouraged in his school, the reply left me almost speechless "No, this is not a very Scottish area." Can you imagine an English or Irish headmaster making such a statement? It shows how far we have to go in renewing Scotland after centuries of self inflicted cultural colonialism. I have actually heard educated Scots argue that no Scottish history from before 1707 should be taught in our schools, as it only foments "dangerous nationalism". The Catalans reckoned it would take three generations after autonomy for a similar "slave mentality" to be replaced with cultural and political self confidence. With us it might take a bittie longer!
Yet on the occasions I feel alienation from my countrymen, I hear McDiarmid's humorous response to the same conundrum...
"Mercy o' Gode, I canna thole wi sic an orra mob to roll"
"Wheesht! It's for the guid o your soul."
It micht be for the guid o my soul, but I dinnae like whit it duis tae ma heid.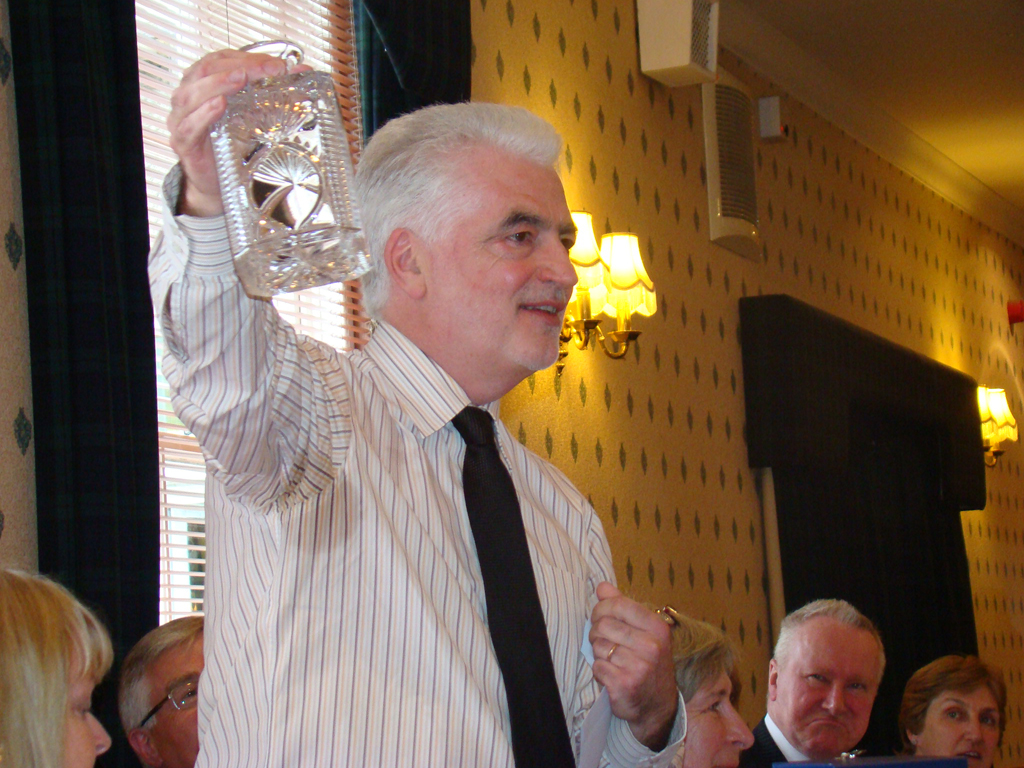 Billy with his inscribed Crystal Decanter at the Oliver award lunch.
I do feel, nevertheless, that Scotland is inevitably moving towards being at one with herself, and that the positive values ingrained in the culture will survive and thrive as we gain political maturity. At the core of the culture is the tradition defined by George Elder Davie as "democratic intellectualism" It has been there for centuries, and has affected positively our perspective on the world, with our working class culture especially enlightened and liberal compared to most societies. My wife's first experience of Scotland was an airport taxi driver who quoted huge passages of Burns' poetry on the way in to the university hall of residence. A fellow student there was astonished to discover a rose and beautifully hand written lines from "My love is like a red, red rose" lying on his bed, placed there by the woman who cleaned his room. The foreign students at the summer school realised they were in a very special cultural environment. I am constantly being made aware of that too, and realise its immense potential.
Having made documentary features over two decades, I have interviewed almost 2000 people from different walks of life, and I never fail to be impressed by our human kindness in adversity, our rampant egalitarianism, our wild, dark humour, the power of our stories, music and songs, our insatiable thirst for knowledge, our passionately shared desire for sense and worth ower aw the earth tae bear the gree, an aw that. For aw that potential to bear fruit, is something definitely worth waiting for.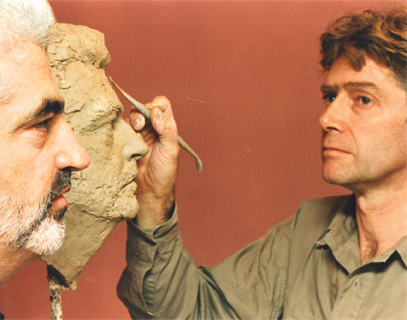 The Sculptor David Annand and the bust of Billy he made when Billy won the Heritage Society of Scottish Award, 1995